Unique Custom Gift Baskets
From Wine, Cookies, and Fruits to Kosher, Flowers, Balloons, Diapers and More
A Little Bit About Us
We are not a cookie cutter company, All gifts are custom hand-made when ordered in West Palm Beach, Florida. We are a local Florida gift basket company.  ** We hand deliver  throughout Palm Beach County, FL Monday thru-Friday*. We also deliver to all local hospitals including the VA, hotels, resorts and funeral homes.  
**Any Of Our Gifts Can Be Customized To Fit Your Needs.
Call us, Text us, Live Chat with us or email us* 1-866-453-1862 & 561-225-1516
Our Text Line - Text us at 561- 331-6608
 We are "Your One STOP Source" for all your custom gift-giving needs serving you since 1999. *** We are one of West Palm Beach  Florida #1 Gift Basket Provider*** Specializing in creating unique: Custom Gift Baskets, St. Patrick's Baskets, Easter Gift  Baskets, Gift Basket by Price, Administrative Assistant Day Gift Baskets, Unique Gift Baskets, Mother's Day Gift Basket, Unique Corporate Gift Baskets, Jamaican Gift Basket, Sugar Free Gift Basket, Temptations Gift Baskets, Valentine's Gift Baskets, Easter Gift Baskets, Holiday Gift Basket, Gift Tower, Gluten Free Gift Basket, Convention gift basket, Welcome Gifts, Dried Fruit, Organic Gift Basket, Kosher Gift Baskets, Shiva Gift Basket, Father's Day Gift Baskets, Halloween Gift Basket, Sympathy Gift Baskets, Get Well Gift Basket. Holiday Gift Basket, Graduation Gift Basket, Thanksgiving Gift Basket, Christmas Gift Basket, Same Day Delivery, Fruit Gift Baskets, Cookie Gift Basket, Unique Birthday Gift Basket, Baby Gift Baskets, Baby Gift Baskets, Wedding Gift Baskets, Custom made Gourmet Gift Baskets, Birthday Gift Basket, Vegan Gift Baskets, Keto Gift Baskets, Baby Diaper Cakes, Kids Gift Basket, Sympathy Flowers, Fresh Flowers, All Occasion Gift Basket, Floral Bouquets, Balloon Bouquets, Candy Bouquets, Cookie Bouquet, Birthday Cake,
Gifts for all occasions with Next Day Delivery in Palm Beach County FL, Hand Delivery to West Palm Beach Gift Basket, Riviera Beach Gift Basket, Palm Beach Gift Basket, North Palm Beach Gift Basket, Palm Beach Gardens Gift Basket, Jupiter Gift Basket, Juno Beach Gift Basket, Tequesta Gift Basket, Wellington Gift Basket, Royal Palm Beach Gift Basket, Lake Worth Gift Basket,  Boynton Beach Gift Basket, Lantana, Delray Beach Gift Basket, Boca Raton, Palm Beach FL Gift Baskets, Stuart Gift Basket-Martin County FL,.
We ship to all other counties in Florida  with a one day UPS ground shipping.  
We offer Local Hand Delivery from $17.50 & up  with $22.95 Flat Rate National Standard Shipping and International shipping to Canada rates are higher based on all orders locations.
Our Gift Baskets Are Delivered to all of Palm Beach County, Florida.
** **NOTICE Not Currently Offered Due To Covid-19 **STORE WALK IN CUSTOMERS OR IN STORE SHOPPING OR PICK UP** Hand Delivery or Nationwide Shipping OFFERED ONLY** Store Closed on Saturday & Sundays**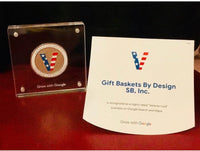 We are a "Veteran-Led" Business.